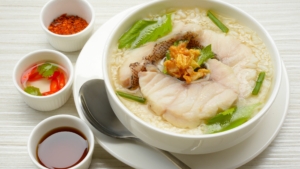 Looking for a delicious and nutritious way to add some spice to your diet? Thai fish dishes might be just what you're looking for! Made with fresh, healthy ingredients and loaded with protein and omega-3 fatty acids, these recipes will definitely satisfy your cravings without regrets.
In this article, we'll show you these Thai fish recipes so you can try them out for yourself!
Grilled Whole Thai Fish With Coriander-Chili Sauce.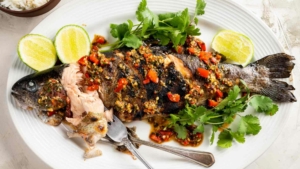 Impress your loved ones and friends with this traditional Thai fish recipe, which can be prepared either outside on the barbecue or indoors in a pan. The mild to extra spicy coriander-chili sauce perfectly complements the tenderness of any white-fleshed fish such as trout, snapper, sea bass or even sea bream! Though you could use nearly any whole "white-fleshed" fish for this recipe, larger varieties work best as they'll grill better on the barbie.
Ingredients:
1 Whole Fish (2 lbs)

Sea Salt

Lime

Cooking Oil
To make a flavorful Thai curry base, you'll need
1/3 cup of water,

1/2 tablespoon of tamarind paste,

3 cloves of garlic minced,

1 heaping teaspoon brown sugar,

one thumb-sized piece galangal or ginger peeled and sliced,

2 tablespoons fish sauce

either 1 or 2 – fresh red chilies

half a red bell pepper (deseeded)
Steps to Make this Thai Fish Dish:
Pat your fish dry, then make a few diagonal cuts that are several inches apart with the knife angled towards its head. Take 1 to 2 limes and extract their juice over and inside of it before sprinkling some sea salt atop for flavor while you get ready to whip up an exquisite sauce!

Place all the curry base' ingredients  in a food processor; blend until you achieve the desired consistency. Then, transfer the mixture to a small pot over medium-low heat for about 5-8 minutes – keep stirring occasionally. Adjust saltiness and sweetness as necessary. Cover the pan while heating up.

Fire up your grill to 375 F, or heat 1 cup of canola oil in a wok or large frying pan. Sear the fish for five minutes on each side until its flesh has browned and flakes away easily. Be sure not to flip it over too soon–let it cook through at least two minutes before turning.

Present the fish on a plate, and generously cover with sauce. Adorn your creation with sprigs of coriander and lime wedges for some extra flavor and texture. For an indulgent experience, pair it with plenty of fragrant jasmine rice.
Steamed Thai Fish With Lime and Garlic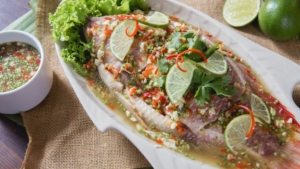 If you've ever been to a Thai restaurant, chances are you have seen or sampled the delectable Pla Kapong Neung Manao on the menu. This mouth-watering dish features steamed barramundi fish in an aromatic sauce made up of juicy lime juice, garlic and chili peppers! The perfect balance between sourness and spiciness presents itself as a true embodiment of traditional Thai flavors–and believe it or not? It's surprisingly simple to make at home with just fresh fish. 
Ingredients:
1 whole barramundi, about 1 – 2 kg

5 stalks lemongrass
For the savory soup-sauce, you'll need:
1 cup of nutrient-filled chicken stock or fish stock (fresh or canned),

2 tablespoons finely chopped palm sugar,

8 tablespoons lime juice,

6 tablespoons delectable fish sauce,

2 heads of garlic diced into small pieces,

chilies to taste finely chopped for a kick of flavor and spice;

20-25 sprigs cilantro freshly chopped with love;

and lastly 1 to 2 stalks Chinese celery
Steps to Make this Thai Fish Dish:
To begin, ensure your fish is properly scaled and gutted. Then, make three diagonal incisions on each side of the fish for added flavor. Next, remove the top halves of lemongrass stalks and bruise them before stuffing them into the cavity of your chosen fish. Steam the entire preparation over high boiling water for approximately 10 – 15 minutes.

In a saucepan, heat the chicken stock until it reaches boiling point and then add sugar. Reduce your flame to low and boil until all of the sugar is completely dissolved. Pour this mixture into a bowl and set aside for later use.

Mince garlic, chilies, and cilantro finely so that their flavors can infuse every bite you take from this soup; pour them in along with fish sauce and lime juice. Stir gently but thoroughly before tasting–it should be sour yet balanced with just enough sweetness!

After the fish is fully cooked, delicately place it on a plate with edges to hold in any soup. Decorate with Chinese celery as you spread all of the sauce over and around the fish, making sure most of the garlic and chilies sit atop it. Don't forget to enjoy your meal alongside steamed rice!
Coconut Thai Fish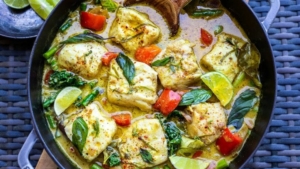 This delectable fish recipe combines two classic Thai flavors, the sweetness of coconut and the spiciness of curry. It's a perfect balance between the two that will have your taste buds dancing with delight!
Ingredients:
For added toppings:
toasted sweetened flaked coconut,

freshly grated lime zest and

chopped cilantro leaves.
For a flavor-packed Thai Fish dish, here's what you'll need:
butter (2 tablespoons),

shallots finely chopped (1/4 cup),

red curry paste (2 tablespoons),

fish sauce (2 tablespoons),

coconut milk from one 13-ounce can,

fresh lemongrass finely chopped (2 tablespoons)

and ginger root finely chopped 2 teaspoons.

Lastly, add 1 pound of cod filets
Steps to Make this Thai Fish Dish:
In a bowl, mix together all topping ingredients and set aside.

Melt the butter in a 12-inch skillet until it is sizzling hot; then add shallots and cook for 3 to 5 minutes or until tender. Stir the curry paste into the mixture and continue cooking for 1 minute or until heated through. Subsequently, combine fish sauce, coconut milk, lemongrass and ginger root with the other ingredients before bringing everything to a boil.

Turn the heat to medium-low and simmer for 4-6 minutes until it begins to thicken. Toss in the cod, then let it all cook together 5-7 more minutes or until the fish is completely white and flaky. Divide a generous portion of rice into each bowl, spooning over your delicious fish mixture afterwards before topping with coconut mix!
Spice Up Your Fish Dishes with a Thai-Inspired Twist!
There you have it—a quick and easy way to add a unique flavor to your Thai fish dishes! With just a few simple ingredients, you can kick up the flavor of any seafood entree. Try these simple tips today and experience the delicious taste of Thai fish dishes in your very own kitchen!
However, if you want to experience the full flavor of Thai fish cuisine NOW,, you can check out our menu and visit our restaurant to try some of our signature Thai fish dishes. With a variety of flavors, we guarantee you an amazing experience!
Read more like this:
4 Traditional Thai Rice Dishes That Will Complete Your Family Holiday Meal!
9 Delicious Holiday Food Ideas from Thai Cuisine
3 Simple Thai Recipes You Can Make Right at Home
6 Delectable Thai Fall Recipes to Warm You Up This Cold Season!
Halal Thai Food: 8 Delicious and Nutritious Options
5 Thai Noodle Recipes: Your Cheat-Sheet to Having a Heavenly Meal
6 Thai Veggies Recipes under 10 Ingredients that even the Pickiest of Eaters will Love!
9 Green & Healthy Thai Salads That Will Surely Tantalize Your Taste Buds!