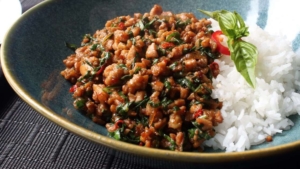 The leaves are changing color and the weather is getting colder. That can only mean one thing: fall is here! This season is a favorite for many people, especially foodies. There are so many delectable foods to enjoy, and now is the perfect opportunity to indulge in some Thai cuisine. 
In this blog post, we will share with you five of our favorite Thai fall recipes that will warm you up this cold season. From curries to noodle dishes, there is something for everyone in this roundup. So sit back, relax, and get ready to cozy up to some amazing Thai cuisine!
Curries
Curries are a favorite fall recipe for many, and for good reason! Curries are hearty and comforting, and they can be made with a variety of different ingredients. Thai curries are typically made with coconut milk, which makes them rich and creamy. They are also packed with flavor thanks to the addition of fresh ginger, lemongrass, and chili peppers.
Fall Recipe#1: Thai Red Curry with Vegetables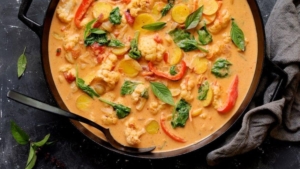 This Thai fall recipe is warm and comforting, perfect for cool days–though it is admittedly a little rich. Still, with all the vegetables, it doesn't feel too indulgent.
To make delicious Thai curries, use a lot of aromatics, such as onion, ginger, and garlic. For its richness, use full-fat coconut milk (you won't be sorry!) Adding just a little bit of rice vinegar and sugar to the mix gives it a lot of depth. 
You can also mix and match different vegetables, as long as you slice them thinly so they cook evenly. Consider trying broccoli, cauliflower, mushrooms, diced butternut, or sweet potato (which will probably require a longer cooking time), sliced zucchini, and/or yellow squash.
Fall Recipe#2: Thai Chicken Coconut Curry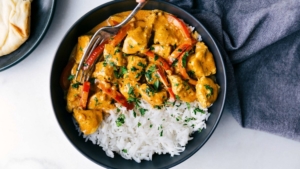 Nothing beats digging into a plate of this hearty, nutritious comfort food that's filled with spices after the beat of summer. The coconut milk-based sauce alone is enough and the curry is savory and salty, with natural sweetness from the onions, carrots, and coconut milk. The lime juice delivers ideal acidity, and the Thai red curry paste offers just enough heat.
It's made with boneless, skinless chicken breasts, but you could also use thighs if you prefer. The chicken is simmered in a fragrant coconut milk-based sauce with ginger, lemongrass, and red chili peppers. This fall recipe is gluten-free and can be prepared in 20 minutes.
Noodle Soup
These Thai fall recipes are perfect for when you need a little pick-me-up. They're warm, filling, and packed with flavor. Thai noodle soup is typically made with rice noodles, chicken or shrimp, and a variety of fresh vegetables. The soup meanwhile, is often seasoned with different flavorful ingredients like fish sauce, lime juice, and chili peppers.
Fall Recipe#3: Tom Yum Noodle Soup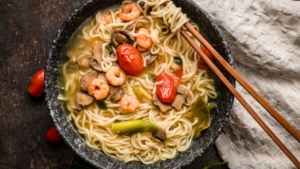 The classic Thai meal is another perfect fall recipe that can warm you up on chilly days. It's a pungent and sour noodle soup that can be found on every street corner of Thailand. You may choose between minced pork, chicken, or seafood. The flavor of spicy Tom Yum noodle soup is simply seasoned with lime juice, crushed peanuts, and chili flakes. 
Fall Recipe#4: Khanom Jeen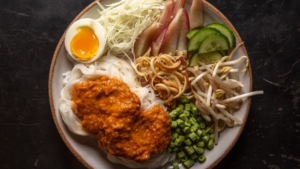 Khanom Jeen is a rice starch noodle from Thailand. They're quite soft and thin. Khanom Jeen goes well with many curry sauces, including green chicken curry (gaeng keow wan gai), sweet peanut sauce (nam phrik), hot and spicy fish-based sauce (nam ya), and northern-style pork blood sauce (nam ngiao). Fresh vegetables are served with Khanohm Jeen.
Grilled and Fried Thai Food
Fall can also be the perfect time to fire up the grill! These Thai fall recipes are sure to satisfy you and your fam as you sit and eat together during lazy days. 
Fall Recipe#5: Thai Chicken Satay with Peanut Sauce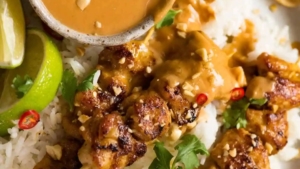 This is a very popular dish in Thailand and is often served as an appetizer or main course. Chicken satay is made by skewering chicken pieces and grilling them until cooked through. The chicken is then served with a delicious peanut sauce for dipping. 
The moment it hits the stove, you'll be able to tell from the smell that these are going to taste amazing. And then once you take a dip into the peanut sauce, you'll be shaking your head in disbelief at how something so uncomplicated can taste this good!
Fall Recipe#6: Thai Grilled Chicken (gai yang)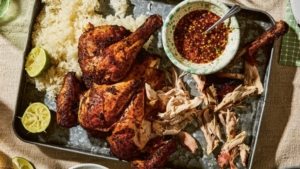 These chicken skewers are marinated in a mixture of soy sauce, fish sauce, honey, and garlic. They're grilled to perfection and make for a great fall dish! Serve with a dipping sauce of your choice. is marinated in a mixture of fish sauce, garlic, cilantro, black pepper, and turmeric. It's then grilled over charcoal until it's slightly charred and juicy.
FALL in Love With Thai Dishes this FALL Season!
Found your favorite fall recipe above? These are all mouth-watering and delectable, making it hard to choose just one! So if you crave something different than pumpkin spice this fall, try one of these Thai dishes instead. You'll be glad you did!
You can also check out our menu and visit our restaurant to try some of these Thai dishes for Fall . We're sure you'll love them!
Read more like this:
Halal Thai Food: 8 Delicious and Nutritious Options
5 Thai Noodle Recipes: Your Cheat-Sheet to Having a Heavenly Meal
6 Thai Veggies Recipes under 10 Ingredients that even the Pickiest of Eaters will Love!
9 Green & Healthy Thai Salads That Will Surely Tantalize Your Taste Buds!
11 Savory and Delicious Thai Beef Recipes You Should Try Out!
Thai Food for Kids: 8 Heavenly Dishes Your Children Will Love!
10 Mouth-watering Thai Chicken Dishes You Absolutely Have to Try
8 Delicious Thai Seafood Dishes That Will Wow Your Taste Buds