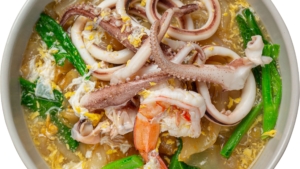 The best part about Thai food is that anybody can cook it! So, if you're in search of quick and simple Thai recipes to make in the comfort of your own home, look no further.
In this blog post, we will share 3 delicious and simple Thai recipes that are easy to follow and simple enough for anyone to make. From curries to stir-fries, there is something for everyone in this roundup of recipes. So whether you're a Thai food novice or an experienced chef, these recipes are sure to please! 
Simple Thai recipe: Thai Chicken Satay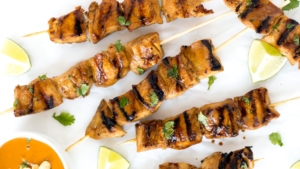 Chicken satay is a much-loved dish in Thailand for its ease of preparation and perfectly cooked chicken every time. The secret to the perfection of this simple Thai recipe is in grilling the chicken to juicy greatness and serving it with a delicious peanut dipping sauce. It's great as an appetizer or main course!
Ingredients For the Marinade:
1/4 cup of minced lemongrass,

2 shallots, or 1/4 onion,

4 cloves garlic,

1 to 2 fresh red chiles, galangal (or ginger), turmeric

2 tablespoons of ground coriander, cumin, and oil

3 tablespoons of dark soy sauce, fish sauce,

6 tablespoons brown sugar
Here's how to make a delicious Thai Chicken Satay:
Mix all of the ingredients for the marinade in a blender or food processor and blend until it becomes a paste. If you don't have either of those tools, you can simply mince everything by hand. Next, cut your chicken breasts into thin strips and add them to the marinade.

Let it sit for at least 30 minutes, or overnight if you have the time.

When you're ready to cook, soak wooden skewers in water for at least 30 minutes so they don't burn on the grill.

Preheat your grill to medium-high heat and then thread the chicken strips onto the skewers. Grill for 8-10 minutes, until cooked through.

Serve with a delicious peanut dipping sauce and enjoy!
Drunken Noodles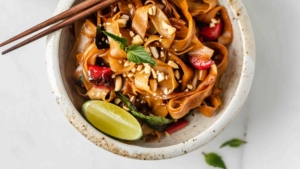 Drunken noodle is a simple Thai recipe that is popular street food in Thailand that can be made in just minutes. This simple Thai recipe dish can be made with any type of protein you like, but chicken is the most popular option. It's typically served over rice noodles, but you can also use regular spaghetti noodles if that's what you have on hand.
Ingredients:
Wide wheat noodles

Makrut lime leaves

2 shallots and 4 cloves garlic

Galangal, or ginger

Red chile pepper

Firm tofu, shrimp, or bite-sized pieces of chicken

Tomatoes, Broccoli, Bok choy, or Chinese cabbage

bean sprouts, cilantro leaves, fresh basil

Vegetable oil
For the Stir-fry Sauce:
1 1/2 tablespoons ground bean sauce

1 tablespoon rice vinegar

1 1/2 tablespoons fish sauce

1 1/2 tablespoons lime juice

1 tablespoon brown sugar

0.5 to 2 teaspoons Thai chili sauces

Fresh basil leaves
Here's how to make delicious Thai Drunken Noodles:
Mix all of the ingredients for the stir-fry sauce in a bowl and set it aside.

Soak the wheat noodles in warm water for 15 minutes, or until they are soft. Drain them and set them aside.

While the noodles are soaking, prepare your vegetables by slicing them into bite-sized pieces.

Place a large wok or frying pan over high heat and add oil. After the oil is heated, add shallots, garlic, and ginger. Stir-fry for 30 seconds then add chili pepper and lime leaves. Continue to stir-fry for another 30 seconds then tofu, chicken, or shrimp. Keep stirring until it's cooked through; this should take 3 to 5 minutes. Afterward, add vegetables and noodles into the mix then pour in the stir-fry sauce lastly before cooking for an additional minute only until heated thoroughly.

Serve with fresh basil leaves and enjoy!
Pad Thai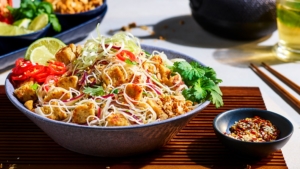 What's a list of simple Thai recipes without Pad Thai? It is a classic Thai dish that's perfect for a quick and easy weeknight meal. This simple Thai recipe can also be easily customized to your liking and is sure to please everyone at the table!
Ingredients:
8 ounces of rice noodles

1/4 cup tamarind paste

Fish sauce, palm sugar, vegetable oil

cloves garlic, shallot chili pepper, ground ginger

The protein of your choice: 1/2 cup cooked chicken, shrimp, or tofu

1/2 cup chopped green onions

chopped peanuts and cilantro leaves

Lime wedges, for serving
Here's how to make a delicious Pad Thai:
Soak the rice noodles in warm water for 30 minutes.

In a small bowl, whisk the tamarind paste, fish sauce, palm sugar, and 1/4 cup of water together until the sugar has dissolved.

Heat the oil in a large skillet or wok over medium-high heat. Add the garlic, shallot, chili pepper, and ginger. Cook until fragrant, about 1 minute.

Add the protein of your choice and cook until browned and cooked through about 5 minutes. Stir in the soaked noodles and green onions. Cook for 2 to 3 minutes, or until the noodles are tender. Add the tamarind sauce and toss everything together until it's evenly mixed.

Garnish with chopped peanuts, cilantro leaves, and lime wedges. Serve and enjoy!
Easy Peasy Simple Thai Recipes!
These simple Thai recipes are perfect for a quick and easy weeknight meal. From drunken noodles to Pad Thai, these dishes are packed with flavors that can be easily customized to your liking. So what are you waiting for? Give them a try today!
You can also check out our menu for more simple Thai recipes and visit our restaurant to try some of these recipes for yourself. We guarantee you won't be disappointed!
Read more like this:
6 Delectable Thai Fall Recipes to Warm You Up This Cold Season!
Halal Thai Food: 8 Delicious and Nutritious Options
5 Thai Noodle Recipes: Your Cheat-Sheet to Having a Heavenly Meal
6 Thai Veggies Recipes under 10 Ingredients that even the Pickiest of Eaters will Love!
9 Green & Healthy Thai Salads That Will Surely Tantalize Your Taste Buds!
11 Savory and Delicious Thai Beef Recipes You Should Try Out!
Thai Food for Kids: 8 Heavenly Dishes Your Children Will Love!
10 Mouth-watering Thai Chicken Dishes You Absolutely Have to Try