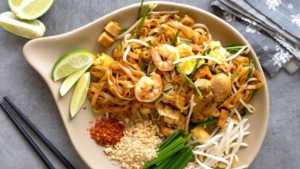 Halal Thai cuisine is packed with flavors and offers a wide variety of dishes that are perfect for any occasion. Whether you're in the mood for a spicy curry or want something milder, there's sure to be a Halal Thai dish that fits your taste buds.
In this blog post, we'll discuss the history of Halal Thai food, as well as some of the most popular dishes we offer. We'll also provide a few tips on how to order Halal Thai food when you're out dining. So read on to learn more about this amazing cuisine!
Halal Thai food
Thai food is typically classified as either central, northern, or southern cuisine. Halal Thai food can be found throughout all of these regions, but it's most commonly associated with southern Thailand. This is because the south is home to a large Muslim population, and Halal Thai dishes are often made with ingredients that are permissible under Islamic law. 
Halal Thai food is also popular in other parts of Southeast Asia, such as Malaysia and Indonesia. Below are some of the most popular Halal Thai dishes that you'll surely want to try!
Pad Thai – Thailand's Famous Stir-Fried Noodles
One of the most common Halal Thai dishes is pad thai. This dish is made with rice noodles, tofu, vegetables, and a variety of spices. You can choose to have your pad thai with shrimp or chicken, and it can be prepared according to how mild or spicy you want it. If you would like it to be Halal, let the chef know not to add shrimp paste, fish sauce, or alcohol.
Som Tam – Thailand's Famous Papaya Salad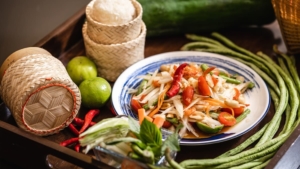 Som tam is a popular Halal Thai dish that originated in Laos. It is made with shredded green papaya, carrots, beans, peanuts, and a variety of other vegetables. The salad is typically mixed with a lime dressing, and it can be either mild or spicy. It is usually served as a side dish, but it can also be enjoyed as a main course. 
Som tam is a delicious and healthy Papaya salad in Thailand and a good choice for those looking for Halal Food or Vegetarian food in Thailand.
Khanom Buang – Thai Crepes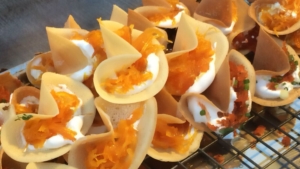 Khanom Buang is Halal Thai crepes that are made with a rice flour batter and filled with a variety of sweet or savory toppings. The most common fillings include shredded coconut, mango, and sticky rice. Khanom Buang is usually served as a snack or dessert, and every bit of this product is handmade which makes it all the more delicious.
Massaman Curry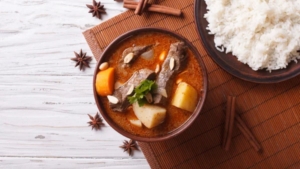 Massaman curry is a Halal Thai dish that is made with coconut milk, beef, potatoes, and a variety of spices. This dish is usually mild in flavor, but it can be spiced up to your liking. It's typically served with rice or noodles, and it makes for a hearty and filling meal.
Kao Pad – Thai Fried Rice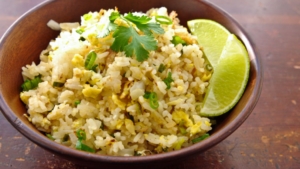 Kao pad is a popular Halal Thai dish that makes for a quick and easy meal. This dish offers a wide array of ingredients that you can mix and match to create your own unique culinary experience. Greens, veggies, peppers, chicken, prawns, crab, chili, shallots, eggs, and more come together to make this an extravagant delicacy – fit for those looking for filling Halal food in Thailand.
Pla Muek Yang – For the Seafood Lovers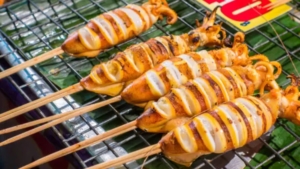 Pla Muek yang is a Halal Thai dish made with grilled squid, and it's a popular choice for seafood lovers. This Asian dish is full of complex tastes. Pla Muek Yang uses squid that has been liberally dusted with oil and charcoal-grilled to give it a smoky aroma. The squid is then garnished with crispy nuts and a combination of lime, ginger, and crushed herbs to add a fresh note to the dish. 
This delectable seafood dish is perfect for when you want to enjoy the best of Thailand's cuisine while following Halal dietary restrictions.
Tom Yum – Traditional Thai Soup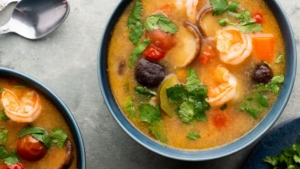 Tom yum is a Halal Thai soup that is also known as the classic soup of Thailand. It is in fact a famous delicacy and a quintessential dish in most Thai restaurants. This delicious soup is overflowing with healthy veggies, herbs, and prawns. If you're curious about Halal food in Thailand, this would be an excellent dish to start with. You'll absolutely love its perfect blend of spice and sweetness!
Gaeng Keow Wan Gai – Green Curry from Central Thailand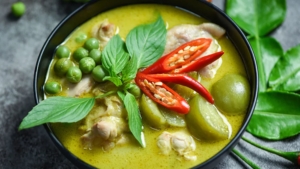 If you're looking for Halal Thai food that is hearty and filling, look no further than Gaeng Keow Wan Gai. Gaeng Keow Wan Gai is one of the most classic dishes in the country and a great option for Halal food in Thailand. This curry best reflects the exuberance of Thailand's culinary culture, with ingredients like eggplant, basil, coriander, bamboo shoots, and other traditional Thai spices. It's nothing less than soul food for connoisseurs because it includes chicken and vegetables.
Have it the Halal Way!
Now that you know a little bit more about Halal Thai food, we hope you'll be inspired to try some of these delicious dishes for yourself! Halal Thai food is a great option for those looking for nutritious and flavorful meals. Whether you're looking for a quick snack or a hearty meal, there's something on this list for everyone to enjoy.
What are you waiting for? Start exploring the amazing world of Halal Thai food today!
You can also check out our menu and visit our restaurant to try some of these Halal Thai dishes for yourself! We're sure you'll love them!
Read more like this:
5 Thai Noodle Recipes: Your Cheat-Sheet to Having a Heavenly Meal
6 Thai Veggies Recipes under 10 Ingredients that even the Pickiest of Eaters will Love!
9 Green & Healthy Thai Salads That Will Surely Tantalize Your Taste Buds!
11 Savory and Delicious Thai Beef Recipes You Should Try Out!
Thai Food for Kids: 8 Heavenly Dishes Your Children Will Love!
10 Mouth-watering Thai Chicken Dishes You Absolutely Have to Try
8 Delicious Thai Seafood Dishes That Will Wow Your Taste Buds
7 Quick and Easy Grilled Thai Food Recipes