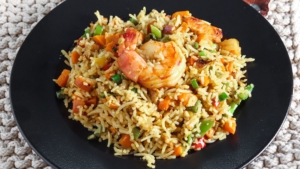 If you're looking for something special to make your family holiday meal complete this festive season, why not try Thai rice dishes? Thai cuisine is known for its flavorful and aromatic dishes, and rice is always a central ingredient. From simple stir-fries to pineapple Fried Rice, there's sure to be a Thai rice dish that will appeal to everyone at your table. And now, we'll add some zest to your holidays this year with 4 mouth-watering Thai rice dishes! Get ready to tantalize your taste buds and explore all these awesome recipes!
Thai Chicken Fried Rice (Khao Phat Gai)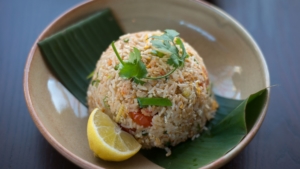 Take a step into Thai cuisine with this simple fried rice recipe that can easily be made right in the comfort of your own home. This Khao Phat Gai dish is traditionally prepared using chicken as its main focus and accentuated by the distinct flavor of Prik Nam Pla – an authentic Thai fish sauce. Aside from the traditional pairing of rice and chicken breast, tomatoes can be added to further enhance both moisture and flavor. Additionally, people commonly stir-fry it with an unbeaten egg broken over the top, ensuring each grain of rice is saturated with its nutrient-filled liquid. The deep, unforgettable regional taste will transport you to Thailand!
Bonus Thai Rice Dish Tips
For individualized chicken breast servings, try out some Thai-inspired recipes to pair with the rice. Fried rice works well as a side dish for any type of poultry entree and you don't need to fret about flavor combinations.
When it comes to seasoning, many opt for a blend of oyster and soy sauces. Prik Nam Pla is another popular choice – a tart mixture made with fish sauce, lime juice, and bird's eye chili peppers – delivering just the right balance between sourness and mild spiciness.
To take the Khao Phat Gai to a new level of flavor, you may also dice up some crunchy cucumber slices and sprinkle them on top. Be sure to drizzle an adequate amount of Prik Nam Pla over the rice for maximum deliciousness!
Pineapple Fried Rice (Khao Op Sapparot)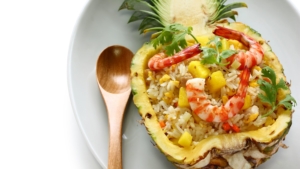 Whether you're planning a trip to Thailand or not, pineapple fried rice is an absolute must-try dish! Not only does the flavor surpass expectations, but its visual presentation will leave your dinner guests in awe. This dish is best served with leftover rice. Take the insides of pineapple and pan-fry it together with crunchy vegetables like bell peppers, peas, and corn – all mixed in with your white or brown rice. 
To get that eye-catching vibrant yellow hue on each grain of rice, simply add a pinch of turmeric. For a natural rice bowl, take the pineapple and cut it lengthwise; scoop out its center and save it for future use. Voilà – your homemade dish is ready! Give this mouthwatering meal a try today and be prepared for compliments galore!
Bonus Thai Rice Dish Tips
Khao Op Sapparot is best enjoyed with a generous portion of garlic, which complements the smoky and aromatic flavor of the fried rice. You should serve it in a pineapple boat to further enhance the already delectable taste – adding an extra layer of tangy-sweetness!
Tom Yum Fried Rice
Delight your family and tantalize their taste buds with a delicious Thai shrimp fried rice recipe infused with the unforgettable flavor of Tom Yum! For those unfamiliar, this classic soup is known for its addicting sour blend of herbs and spices. The great news is that the Tom Yum spices are commonly available in many Asian stores, so it should be a breeze for you to get your hands on them. By incorporating it into your fried rice dish, you'll be sure to impress all who try it!
Bonus Thai Rice Dish Tips
For an even deeper, more robust flavor profile, a hint of sugar alongside the Tom Yum paste is essential. To add texture and flavor to your fried rice, peel the shrimp before stir-frying them with other ingredients. Additionally, enhance the dish by adding tomatoes, lime leaves, and broccoli for an even more savory taste.
Thai Crab Fried Rice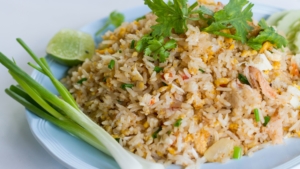 Get ready to vivify your taste buds with a delectable Thai-style fried rice dish bursting with succulent seafood flavors! The sublime combination of fragrant fried rice and the delightfully firm yet moist texture of crab meat creates an unforgettable starter for you to enjoy. This flavorful fusion will surely have everyone's mouths watering in anticipation!
Complete the Holiday Table with Thai Rice Dishes!
A Thai-style family holiday meal wouldn't be complete without classic Thai rice dishes like the ones we've mentioned above. Each of these offers a unique flavor profile and can easily be tailored to your preference–making them an ideal option for any large gathering! Enjoy these wonderful Thai rice dishes with your loved ones for a truly magical experience that is sure to bring joy and happiness to your holiday table. 
You can also check our menu and visit our restaurant to try out some Thai rice dishes NOW. We guarantee your family will enjoy it! 
Read more like this:
9 Delicious Holiday Food Ideas from Thai Cuisine
3 Simple Thai Recipes You Can Make Right at Home
6 Delectable Thai Fall Recipes to Warm You Up This Cold Season!
Halal Thai Food: 8 Delicious and Nutritious Options
5 Thai Noodle Recipes: Your Cheat-Sheet to Having a Heavenly Meal
6 Thai Veggies Recipes under 10 Ingredients that even the Pickiest of Eaters will Love!
9 Green & Healthy Thai Salads That Will Surely Tantalize Your Taste Buds!
11 Savory and Delicious Thai Beef Recipes You Should Try Out!