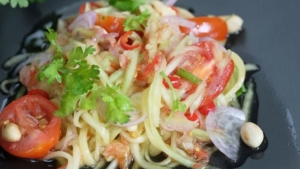 A Thai salad is luscious, healthy and a perfect meal in one! It is easy to make and can be prepared ahead of time. Thai salads are packed with veggies, protein, and a variety of Thai flavors. Some even contain fruit, making them a refreshing and unique option for a light lunch or dinner. And if you're craving some, here are 9 Thai salads you'll surely enjoy!
Som Tam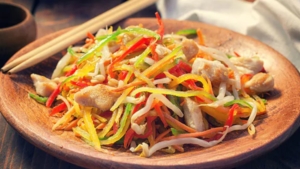 Shredded green papaya is cooked in this delicious Thai salad. This dish usually includes roasted peanuts, green beans, tomatoes, and a tangy sauce made with garlic, chili peppers, fish sauce, dried shrimp, palm sugar, and lime or tamarind juice.
It might be possible to include virtually anything in them, and the possibilities are endless. The sauce may also be used in a variety of other combinations, as well as being much sweeter or spicier than usual.
Yum Woon Sen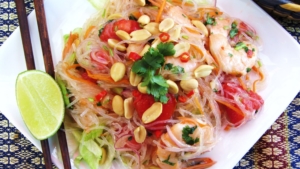 A spicy Thai dish in which cellophane noodles, pork, shrimp, chicken, shallots, ginger, cilantro, peanuts, and a lime juice-based sauce of fish sauce, palm sugar, and chili peppers are combined is named Yum Woon Sen.
To make the salad, the noodles and beef are cooked separately before being combined with fish sauce and lime juice. The salad is typically garnished with peanuts after preparation, although some restaurants prefer shrimps as a topping option. Because Yum Woon Sen is typically quite spicy, it is often eaten with steamed rice and lettuce on the side.
Yam Wun Sen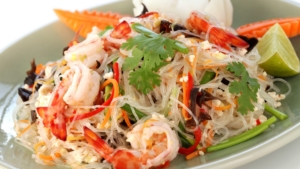 The traditional glass noodle salad in Thailand is called Yom wun sen. This Thai salad has a zingy crunch and bright, refreshing tastes. It's made of glass noodles, fried garlic, cilantro, chili peppers, dried shrimp, lime juice, fish sauce, onions, Chinese celery, and roasted peanuts.
Fresh spring greens, Chinese cabbage, and carrots are used to make the salad. Ground pork or beef can also be added to the salad for extra protein content. The combination of ingredients makes for a hearty meal that may be eaten hot or cold. It's also very popular in the summertime when it's served chilly or lukewarm.
Yam Khai Dao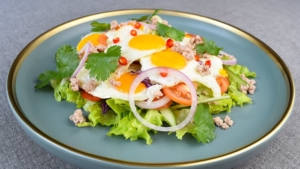 In Thailand, Yam Khai Dao is a basic Thai salad made with fried eggs and sliced veggies like onions and carrots, as well as a lot of freshly chopped cilantro and other greens. The salad is finished with a dressing that usually comprises lime juice, fish sauce, palm sugar, and fresh chili peppers.
The soup can be made with duck or chicken eggs, and while it may be served with rice as a tasty light meal, it can also be used to complement other meat-based Thai dishes.
Phla Kung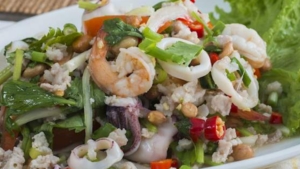 Blanching the shrimps, then combining them with chopped lemongrass stalks, shallots, kaffir lime leaves, cilantro, and mint leaves before dousing them with a chili-lime dressing makes this hot and sour shrimp salad. The spicy shrimp salad is generally served on fresh lettuce leaves with fresh mint sprigs.
There are numerous variants of this meal, some of which request other types of seafood or fish in addition to shrimps, and others that combine several species for a more exciting flavor salad.
Mu Nam Tok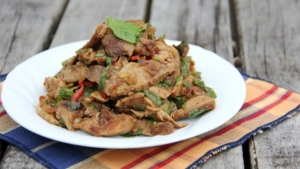 Thi Thai salad dish is called "Pad Hainam Tok", and it's a popular Thai grilled pork salad. The dish is commonly prepared with glutinous rice, pork, oil, shallots, mint, scallions, coriander, cabbage, and other herbs. Pork is marinated in a combination of sugar, fish sauce, and black pepper before being grilled. Once it's been cooked, it's cut into bite-sized pieces and mixed with a chili-lime dressing, fresh herbs, and toasted glutinous rice.
This Thai salad is often served with som tam (green papaya salad) or laab (minced pork salad).
Som Tam Mamuang
A Thai salad called Som Tam Mamuang is a well-known favorite. Although there are many variations, it's typically composed of green mango, dried shrimp, garlic, shallots, chili peppers, peanuts, fish sauce, tamarind water, lime juice, sugar, and coriander.
Shrimp and peanuts are roasted, and the remaining components are simply combined together before being dressed with lime juice and fish sauce. Roasted peanuts and coriander or scallions are commonly used to garnish the dish. It should be served as soon as possible after preparation.
Papaya Salad (Som Tam Khai Khem)
The som tam Khai Khem is a Thai papaya salad that has been around for quite some time. There are several types of som tam, and this one stands out because it's garnished with salted hard-boiled eggs. Green papaya, bird's eye chili, garlic, green beans, tomatoes, crushed peanuts, carrots, palm sugar, fish sauce, and lime juice are the ingredients used to make this Thai dish.
The salad is commonly served with sticky rice, but it may also be eaten alone as a light meal or appetizer. The salted egg is cut into four pieces and placed on top of the salad, although it may also be combined. A sauce made of fish sauce, palm sugar, lime or tamarind juice, and chicken stock is used to dress the salad.
Thai Salad: Yam Nuea Yang
Yam Nuea is a Thai salad made with thin slivers of grilled beef, raw veggies, and spices. Vegetables and herbs that are commonly used in the dish include shallots, tomatoes, cucumbers, coriander leaves, mint leaves, Thai basil leaves, bird's eye chilies, and scallions.
A lettuce-based beef salad commonly includes a combination of fish sauce, lime juice, bird's eye chilis, and palm sugar in its recipe. Garlic, ginger, lemongrass, and coriander roots are just a few of the ingredients that may be used in the dressing. Yam Nuea Yang is excellent eaten on its own, or it may be served as a side dish.
Mix the Veggies Now!
Salads are a huge part of Thai cuisine, and there are many different types to choose from. These nine Thai salads are some of the most popular and delicious options that you'll find and will definitely satisfy your healthy cravings. 
Whether you're looking for a light meal or an appetizer to accompany your main dish, these salads are sure to tantalize your taste buds! 
To book a table or place an order, just head over to our restaurant or order now for a meal you'll surely remember!
Read more like this:
11 Savory and Delicious Thai Beef Recipes You Should Try Out!
Thai Food for Kids: 8 Heavenly Dishes Your Children Will Love!
10 Mouth-watering Thai Chicken Dishes You Absolutely Have to Try
8 Delicious Thai Seafood Dishes That Will Wow Your Taste Buds
7 Quick and Easy Grilled Thai Food Recipes
Top 11 Vegetarian-Friendly Thai Dishes
Top Thai Soups To Give Your Tastebuds A Quick Healthy Twist
The Most Delicious Thai Seafood Dishes You Need to Try!