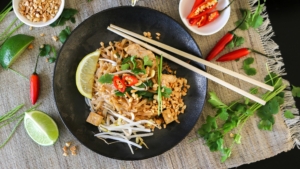 Been feeling a bit more adventurous with your food choices lately? If so, then it's time to venture into the world of Thai cuisine! Thai food is known for its bold flavors, unique blend of sweet, sour, spicy, and savory, and fresh ingredients. With so many dishes to choose from, it can be overwhelming to decide what to order. But don't worry, we've got you covered! Here are 7 must-try dishes at a Thai restaurant.
Pad Thai
If it's your first time at a Thai restaurant, you can never go wrong with Pad Thai! This is a classic Thai dish that's loved by many. It's a stir-fried noodle dish with a sweet and savory sauce, bean sprouts, tofu, egg, and your choice of meat (chicken, shrimp, or beef). It's usually topped with peanuts and a squeeze of lime juice. It's a perfect balance of flavors and textures that will leave you wanting more.
Tom Kha Gai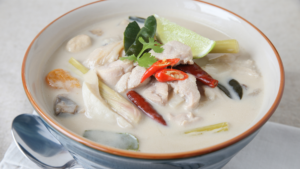 Another Thai restaurant favorite is Tom Kha Gai. This is a coconut milk-based soup with chicken, mushrooms, lemongrass, and galangal. It has a creamy texture and a slightly sweet taste, and it's often served as a starter. It's a great way to warm up your taste buds before diving into other flavorful dishes!
Green Curry
If you're a fan of spicy food, then you must try the Green Curry. This curry is made with green chili peppers, coconut milk, vegetables, and your choice of meat. It has a fiery kick that's balanced out by the sweetness of the coconut milk. It's usually served with steamed rice, and it's the perfect comfort food on a cold day. Almost every Thai restaurant serves this dish because it's among the most popular Thai curries. Be sure to ask for the spice level to your liking!
Massaman Curry
If you're looking for a milder curry option, then Massaman Curry is the way to go. It's a rich and creamy curry made with potatoes, peanuts, and your choice of meat. It has a slightly sweet taste that comes from the addition of cinnamon and star anise. It's a great dish to try if you're new to Thai food and want to ease into the flavors.
Pad Kra Pao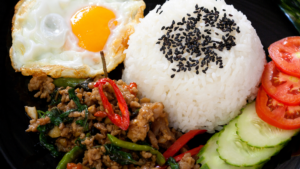 Pad Kra Pao, also known as Thai Basil Chicken, is a stir-fried dish that's packed with flavor. It's made with minced chicken, Thai basil, chili, garlic, and other herbs and spices. It's served with steamed rice and a fried egg on top. The aroma of the basil and garlic will make your mouth water, and the heat from the chili will give you a nice kick. This is a popular street food in Thailand, and it's easy to see why!
Thai Fish Cakes
Another dish you shouldn't miss at a Thai restaurant is Thai fish cakes. Made with deep-fried authentic fish and a variety of herbs and spices, these fish cakes are packed with flavor. They're usually served with either peanut sauce or sweet chili sauce and cucumber relish on the side, which complements the spiciness of the fish cakes. They're a popular appetizer that's sure to tantalize your taste buds.
Mango Sticky Rice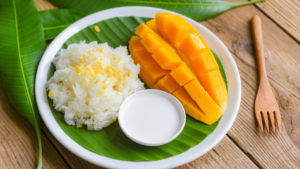 To finish off your Thai restaurant treat on a sweet note, try Mango Sticky Rice. This dessert is made with sticky rice, fresh mango slices, and coconut milk. It's a simple dessert, but it's bursting with flavor. The sweetness of the mango pairs perfectly with the creaminess of the coconut milk, and the sticky rice gives it a nice texture. It's a perfect way to end your meal!
Some Tips on Ordering at a Thai Restaurant
A first-timer? If you're new to Thai cuisine, here are some tips to keep in mind when ordering at a Thai restaurant:
Be Adventurous
Don't be afraid to try something new! Thai cuisine is all about bold flavors and fresh ingredients, so be open to trying dishes you've never had before.
Be Mindful of Spice Levels
Thai food is known for its spiciness, so if you're not a fan of spicy food, make sure to ask for mild or no spice when ordering. On the other hand, if you love spice, don't be afraid to ask for extra heat!
Ask for Recommendations
If you're not sure what to order, ask your server for recommendations. They can suggest dishes based on your preferences and dietary restrictions.
Share Dishes
Thai food is meant to be shared, so don't hesitate to order a few dishes and share them with your dining companions. This way, you can try more dishes and get a taste of everything!
Here's to a Fun and Satisfying Thai Restaurant Adventure!
Trying out a new cuisine can be a fun and exciting experience, especially when it comes to Thai food. With so many unique flavors and dishes to choose from, it's easy to see why Thai cuisine has become so popular. By trying out these 7 must-try dishes at a Thai restaurant, you can get a taste of the bold and flavorful cuisine that the culture-rich country of Thailand has to offer.
Want your Thai food fix ASAP? Order from us online or visit Yummy Thai Irving and enjoy a mouthwatering selection of authentic Thai dishes!
Read more like this:
Shellfish Allergy? Here Are 5 Thai Dishes You Shouldn't Be Scared To Try and Enjoy!
Family Valentine's Dinner Top 6 Dishes: The Best Thai Options for 2023!
Spice Up Your Cuisine: 3 Delectable and Nourishing Thai Fish Recipes!
4 Traditional Thai Rice Dishes That Will Complete Your Family Holiday Meal!
9 Delicious Holiday Food Ideas from Thai Cuisine
3 Simple Thai Recipes You Can Make Right at Home
6 Delectable Thai Fall Recipes to Warm You Up This Cold Season!
Halal Thai Food: 8 Delicious and Nutritious Options