Whether you're looking for a healthier meal or you simply want a taste of the oceans' bounty, Thai seafood dishes are bound to impress. Seafood makes a lovely addition to most Thai recipes because it complements the flavors of their unique spices. And if you're on the lookout for the next dish to try, you've come to the right place! Here are eight Thai seafood dishes that will surely leave you wanting more.
Poo Cha
Also known as crab cakes or stuffed crab shells, poo cha is perhaps one of the most complicated Thai seafood dishes to make on our list. To cook this wonderful appetizer, you will first need to steam the crabs, remove the meat from the shell, mix it with the sauce and spices, stuff the crab shells with the mixture, and then deep-fry them until the crab cakes are golden brown.
Nonetheless, despite all the intricacies of preparing this dish, poo cha is still well-loved Thai seafood because of its perfect mix of taste and texture. The steamed crabs' meat is crisp on the outside while moist and flavorful on the inside, making it the ideal complement to the crab cakes' savory sauce.
Shrimp Wonton Soup
If you're looking for a light and relaxing treat, then you should try this shrimp wonton soup. Traditionally served during the cold seasons, this lovely Thai seafood dish is a great treat to have at home especially when you want something warm on a chilly day. Its flawless blend of the flavors and aroma coming from cilantro, green onion, and fried garlic topping also adds a calming effect with every bite and slurp.
Thai Grilled Squid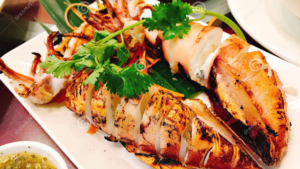 Now, if you prefer Thai seafood dishes that are loaded with bolder flavors, then Thai grilled squid is the dish for you. Known for its spicy sauce and marinade, a lot of people like to have this after they come home from a hard day's work because it energizes them with every bite.
This delicious Thai seafood dish is best enjoyed with steamed rice or by itself paired with Thai chili sauce.
Kaeng Som
Of course, there's no way we can discuss Thai cuisine without mentioning curry. Popular for its rich and authentic Thai flavors, Kaeng som is one of the seafood and curry dishes you'll regret not trying sooner. The fighting sensations of sourness, spiciness, and saltiness in Kaeng som will pique your taste buds with every spoonful.
Whether you want to cook it with fish or shrimp your Kaeng som dish will surely come out well and satisfy your Thai seafood cravings.
Hor Mok Pla
Also known as fish custard, Hor Mok Pla is a healthy and filling Thai seafood dish that's perfect both as an appetizer and a snack. You can even eat it straight from banana leaves which are meticulously shaped and folded into bowls.
Not only its unique look will impress you, but you'll also love how its mild Thai spices perfectly balance its creamy texture. And because it's steamed, you won't have to worry too much about the calories.
Shrimp in Blanket
Another great snack you can munch on during picnics or family gatherings is shrimp in a blanket or Thai firecracker shrimp. Its crunchy coating and spicy chili sauce will surely delight the seafood lover in you, especially if you have a penchant for Thai snacks.
This mouthwatering Thai seafood dish is best paired with Thai iced tea or beers so that your tongue can enjoy its rich flavors to the fullest.
Tom Yum Soup
This popular Thai soup is eaten with almost all kinds of meat–be it chicken, beef, or even tofu. However, what no one can argue about is that it's best served with seafood, especially fresh shrimp.
Tom yum soup is a hot and sour seafood delight that's perfect for rainy days or cold seasons, but Thai people also enjoy it during the summer months. The best thing about tom yum soup is its diversity of flavors which you can alter depending on your preference–just like Thai spicy sauces.
Thai Fish Cakes
Also known as Thai fish patties, Thai fish cakes is a popular snack that street vendors sell fresh–straight from the pan.
This Thai seafood dish is best paired with Thai chili sauce and sweet chili sauce because it gives each bite more flavor–perfect for those who love Thai snacks by the way! Its crisp crust and hot Thai seafood stuffing will surely make you crave more.
Let's Satisfy Your Thai Seafood Cravings Today!
It's easy to see why Thai seafood dishes are loved by many people around the world. From crunchy finger foods to hearty, warming soups, Thai seafood dishes are the perfect way to not only satisfy Thai seafood cravings but also to enjoy Thai cuisine at its finest.
And if you can't wait to have your fix of Thai seafood dishes, you can always contact us or visit our restaurant with your friends, loved ones, and s/o!
Read more like this:
7 Quick and Easy Grilled Thai Food Recipes
Top 11 Vegetarian-Friendly Thai Dishes
Top Thai Soups To Give Your Tastebuds A Quick Healthy Twist
The Most Delicious Thai Seafood Dishes You Need to Try!
Common Thai Food Misconceptions
Thai Feast Dishes That Will Excite You
Start Your Day with these Thai Breakfast Dishes
Eating Thai Food: Things You're Doing Wrong