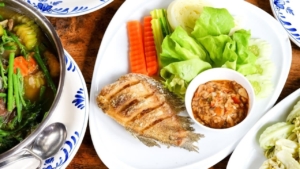 Are you craving Asian food? You can try  Thailand cuisine. It is popular because of the unique and aromatic flavor of every dish. Besides, you can enjoy Healthy Thai Dishes you find when you go to restaurants that serve Thai food
Many people think that healthy foods are boring because they are not super tasty compared to junk food. Do you think so, too? However, using the right ingredients and spices, the dish would be perfect for the tastebuds like the Healthy Thai Dishes.
This article will talk about the different Healthy Thai Dishes that are mouth-watering and worth sharing. 
Pla Kapong Neung Manao (Steamed Fish With Lime and Garlic)
Don't ever think that steamed fish is bland and flavorless. When the food is steamed, naturally, it's not very tasty, but when you add some spices to it, your thinking about steamed food will change. For example, this Healthy Thai Dish, Pla Kapong Neung Manao or Steamed Fish with Lime and Garlic, with its garlicky, spicy, and sour flavor, shows how thrilling and contrasting Thai foods are. The secret to this delicious and Healthy Thai Dish is the fresh ingredients, especially the sauce incorporated into the serving. With the perfect sauce, you'll definitely want to devour every bit of the fish. 
Kaeng Liang (Vegetable Soup Thai Style)
Thai Style Vegetable Soup is one of the popular Healthy Thai Dishes which will make your heart warm when you learn about a couple's history on how they surpass all the hardships and challenges they encountered throughout their marriage. Indeed, love conquers all!
Pad Pak Bung Fai Daeng (Stir-fried Morning Glory)
This vibrant dish is among the Healthy Thai Dishes that you'll surely love for its tasty flavor. The ideal preparation for this  Healthy Thai Dish is stir-fried. Pad Pak Bung Fai Deng is very easy and quick to make. So you can eat it anytime you want and crave more, especially when you munch the crunchy stalks and leaves
In order to fully satisfy yourself when eating your meal is to make sure that the morning glory used to make the dish is authentic.
Thai Chicken Satay With Peanut Sauce
Do you know that a simple skewer can be tasty? Exactly! Take for example this Thai Chicken Satay, though the dish is ordinary, with the perfect sauce to dip in, Whew! You won't know when to stop after eating one stick of skewer. People always say that the key to making a simple food mouth-watery and addictive is the sauce, which I totally agree!
Khao Man Gai (Chicken and Rice)
Fill your hungry tummy and try Khao Man Gai, the Thai style of Hainanese Chicken rice. Chicken and rice dish is widely known in Southeast Asia and one of the Healthy Thai Dishes in The Land Of Smiles. Khao Man Gai's platter consists of (aside from the spices) cooked rice with chicken broth, boiled chicken, chicken soup, and to make it tastier is the sauce. 
Thai Spicy Beef Salad
Your mouth will salivate upon looking at this Healthy Thai Dish that you want to indulge in right away. Thai Spicy Beef Salad with a twist makes every diner go for another serving after tasting it.
The exclusively fresh and unique flavors of the salad make most of the Asian Salads very indulging to eat. And don't forget to spice up your food with chilies and enjoy that burning sensation on your tongue while munching this Healthy Thai Dish.
Gai Pad Med Mamuang (Chicken with Cashew Nuts)
One of the best Asian stir-fried chicken and Healthy Thai Dishes is Gai Pad Med Mamuang especially when you pair it with a bowl of fragrant Jasmine rice. The different spices, vegetables, and the crunchy cashew nuts create a colorful texture and tasty flavor which will make you go crazy. Chicken with Cashew Nuts is vegan-friendly because you can substitute tofu to the chicken with oyster sauce to make it more savory.
Yum Ma-muang (Green Mango Salad)
Mangoes in Thailand have a wide variety, from the small to big sizes to the sour and sweet tastes. If you love sour salad, Yum Ma-muang is an excellent choice. With the combination of nutty, sour, spicy, and salty flavor, your cravings will be rewarding. 
Thai Fruit
We are all aware that eating fruits and vegetables make us grow strong and healthy. And since there are plenty of fruits in Thailand, many Healthy Thai Dishes have fruits in them including fruit drinks and salads
Exploring Thai cuisine and tasting the various Healthy Thai Dishes would be a perfect bonding with your loved ones. So, go on, order some food and dig in! 
Thanks a lot for reading about the
Top 10
Healthy Thai Dishes
. If you feel hungry after reading this, don't think twice and order now
Read more like this:
Top 11 Vegetarian-Friendly Thai Dishes
Top Thai Soups To Give Your Tastebuds A Quick Healthy Twist
The Most Delicious Thai Seafood Dishes You Need to Try!
Common Thai Food Misconceptions
Thai Feast Dishes That Will Excite You
Start Your Day with these Thai Breakfast Dishes