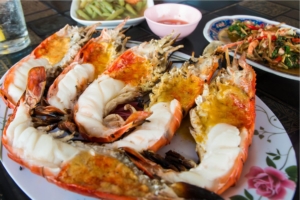 Because Thailand has several coastal areas, we ought to see a wide variety in its seafood cuisine. Try some of these Thai Seafood Meals; few kitchens prepare delicate shellfish, and these recipes are also simple enough to make for everyday eating. They are also beautiful and wonderful-tasting — perfect for serving the company. Remember to be careful to eat these if you or one of your friends has allergies. ENJOY!
Delicious Tamarind Soup Thai Seafood Meals
This delicious Thai hot and sour soup has easy preparation, even at a campground, using a single pan and a few ingredients. The seafood, sliced green onion, sliced yellow onion, black pepper, Thai chili pepper, and water comprises the rich soup base. You can add fish sauce to taste and tamarind. You can finish the dish by adding a handful of mixed green vegetables such as green onion, pea vine, or cilantro, or whatever you may have will work great. Enjoy the serving with freshly steamed jasmine rice.
Black Pepper Seafood Soup
This recipe is one of the easy Thai seafood meals that you can easily find and still taste as a professional chef prepares for a royal guest. Good quality seafood works best together with a garnish of healthy doses of black peppercorn. The marinate for your preferred seafood meat will taste perfectly with fish sauce, fresh Thai chili pepper, ginger, and green onion. They will harmonize with the softening of rice during the slow cook. The oil from your cooked fish gives your soup beautiful color and some added flavor. Garnish with sliced green onion, cilantro, and crushed black pepper. Enjoy!
Cracked Crab Thai Curry, 'Bu Pad Pong Kari'
Thai seafood meals like this simple recipe have a delicious, unique flavor that many people in Thailand love so much that it's an addiction. If you like Thai food, and you like crab, you must try it. Just be sure that your restaurant uses good fresh crab, and they crack the shells before cooking. Thai curry powder is the main flavoring where sidewalk chefs in Thailand use to make the authentic version of this dish. As with any Thai recipe, there are many variations. Using coconut instead of fresh milk is another option. Hint: add a touch of Thai chili oil for great flavor and aroma.
The Amazing Thai Seafood Meals Squid Pad Ki Mao
Popular Thai Seafood Meals such as Pad Kee Mao are available throughout Thailand and served with high chili heat. Chefs use plenty of fresh Thai chile peppers. They coarsely pound the Thai chile and garlic in a mortar and pestle to form a coarse paste. Added chile paste mixture and stir-frying until the garlic begins to brown creates an intense taste and aroma to the dish. The chefs need to be careful not to overcook the squid because if you overcook it, the squid will lose its liquid content and become rubbery. The seasonings are fish sauce and sugar, using more or less as the customers prefer. The chile heat leads the flavor, followed by the salty taste of the fish sauce. Adding lime leaves and basil balances the aroma.
Thai Sushi, 'Pla Koong'
In the Isan (Northeast Thailand), they prepare this one of the Thai seafood meals with raw shrimp. This variant is known as pla kung lao or shrimp made in the Laotian style. In essence, the shrimp is "cooked" in the lime juice, which induces chemical changes in the shrimp meat. However, the dish has a Thai variant called pla kung korat or simply pla kung, in which the shrimp are "blanched" in the manner typically used for vegetables.
Mussels in a Thai Basil Coconut Sauce
One of the best-steamed mussels ever! Thai seafood meals have this Thai mussel recipe that makes an incredible appetizer or a romantic dinner for two. It boasts fresh mussels steamed in white wine, then lightly simmered in a basil-coconut sauce that's simply divine. The chef finishes off this dish with a sprinkling of red chilies, coriander, and more basil for an authentic seafood treat. Ask the waiter to serve it with your favorite wine and a loaf of crusty French bread to soak up the juices. Enjoy!
Beautiful Thai Shrimp Curry With Pineapple
Are you planning to dine with friends? Let them taste Thai seafood meals, and don't forget this special curry, and you'll have friends for life! The curry sauce is delicious, yet easy to make because this Thai Shrimp Coconut Curry is nothing less than fantastic! A beautiful dish to serve guests, or as an everyday seafood treat. The secret ingredient in this curry is a hint of tomato in an otherwise basic yellow curry, which marries beautifully with shrimp. Also contributing to this creamy curry are pineapple chunks plus coconut milk and dry toasted coconut for a tropical-tasting Thai curry you'll want to make again and again.
Thai Baked Fish in Banana Leaf Recipe
You'll love this tender and wonderful-tasting Thai baked fish! The fillet is then wrapped in banana leaves or tin foil/parchment paper and baked in the oven. The slathering in a fragrant coconut sauce will add flavor to this recipe. Coconut rice makes an excellent optional accompaniment, or serve with plain rice or potatoes. Nearly any type of fish will work in this recipe, including salmon, red snapper, cod, tilapia, or sole. A natural and healthy example of Thai seafood meals that's also fun to eat with family and the taste is truly gourmet.
Thai Seafood Meals: Crab in a Thai Tomato-Chili Sauce
Have dinner guests you'd like to impress? Your local Thai restaurant will smell divine after cooking this dish, and you just might get elevated to gourmet chef status by your dinner companions. If you enjoy shellfish, you're going to love this Thai recipe for crab made with a rich-tasting red tomato-chili sauce. The flavorful sauce marries well with the tender crab meat. Either frozen or fresh crab in the shell will work — King Crab or Snow Crab are both delicious, or keep it simple and make it with crab legs. Thai seafood meals like this will leave you craving more.
Pla thot khamin
Thai people usually prepare the marinating turmeric-garlic paste by pounding the ingredients with a mortar and pestle. In Thailand, threadfin bream is mostly used for this dish due to its suitable small size and firm flesh, but any firm-fleshed fish can be used, such as tilapia or mackerel. Crispy, soft, and fragrant, the fish is usually finished off with crispy bits of garlic and turmeric on top and served with steamed jasmine rice on the side. Apart from southern Thailand, this fish specialty is also commonly served at southern Thai restaurants in Bangkok.
Thank you for reading Thai Seafood Meals You Will Crave with us!
All of the above Thai Seafood Meals have amazing flavors with the best satisfying creativity. If you are looking for a place to try out one of these Thai Seafood Meals, Yummy Thai Irving is the perfect destination for you!
Why not visit our authentic Thai restaurant in Irving with your family or friends for nice Thai Seafood Meals? There's nothing like a family bonding with satisfied, full stomachs!
Read more like this:
Top 11 Vegetarian-Friendly Thai Dishes
Thai Soups To Give Your Tastebuds A Quick Healthy Twist
The Most Delicious Thai Seafood Dishes You Need to Try!