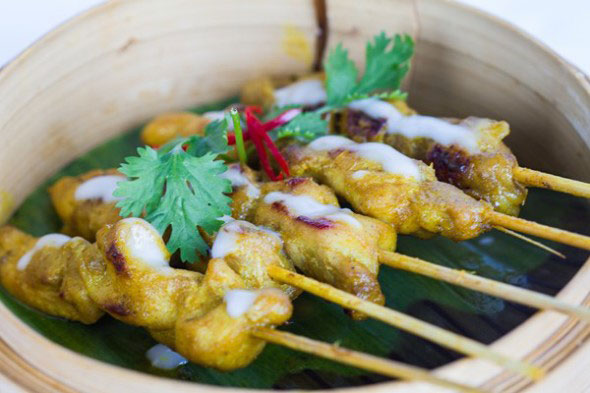 Low Carbohydrate Thai Food Tips
Thai food is prevalent for its taste and healthcare properties. There are many cuisines in the world of Thai food. And some are extremely popular. In this article, we will discuss how a Thai food lover can focus on low carbohydrate Thai food nutrition to stay healthy. Pad Thai with fried rice and mango for dessert might be a Yummy Thai dinner, but it is not a low carbohydrate Thai food. Many types of Thai cuisine are not low in carbs, which are known to curb appetite and facilitate weight loss. There are several low carbohydrate Thai food choices you can enjoy. Learn more about them in this article.
Low Carbohydrate Thai Food Tips: Meat
Chicken with Cashew Nuts Chicken with cashew nuts is a popular Thai lunch item and shallow in carbs. The ingredients might vary. This dish includes:
Fresh vegetables

Sliced chicken

Cashew Nuts
They are stir-fried together into a delicious low carb Thai food. The sauce to make the recipe contains added sugar. So you have to restrict the amount of sauce or soy sauce for flavor. It would be best if you avoided white rice that typically goes together with this dish, which is high in carbs. Grilled Chicken Eating in Thailand implies 'eating rice.' So finding a meal with zero carbs can be quite a challenge where rice plays a significant role. Thai grilled chicken is a healthy and low carbohydrate Thai food choice. The four-ounce serving of grilled chicken will yield 14 grams of protein and two grams of carbs. The side dishes can include sliced cucumber and papaya salad.
Saku Sai Moo
A delicious bite-sized treat, Saku sai moo, is a tapioca dumpling filling with fried pork, peanuts, onion, and garlic that has been cooked together in a creamy fish sauce. The cooking mixture is then placed into tapioca dumplings before being steamed. The result is an aromatic, delicious dumpling that's incredibly moreish and tastes even better when eaten alongside chili. Perfect finger food.
Nam Tok Moo
"Nam tok" in Thai translates to a waterfall, which refers to the juices of this dish. Similar to laab, rather than minced pork, it sees large pieces of grilled pork mixed with lemon juice, onions, chilies, mint, toasted rice, and fish sauce. Juicy and delicious, the mint and lemon make the dish taste incredibly fresh and help to balance out the spice from the chili. An excellent option for those who are sick of the usual Thai fare and wish to try something a little bit different.
Low Carbohydrate Thai Food Tips
Meat Pra Raam is a chicken dish featuring spinach in a red peanut sauce, or Rendang Chicken served in a coconut onion sauce with lemongrass and chilies. Often Beef Basil will be served with garlic, bell peppers, fresh chilies, and onions.
Low-Carbohydrate Thai Food: Vegetables
Stir-Fried Veggies Vegetables are the underbelly of all Thai dishes. The main course will contain a plate of stir-fried vegetables consisting of carrots, mushrooms, broccoli, and onions; this is low in carbs. Salad Opt for a spicy beef salad, which is usually beef tenderloin with fresh vegetables and lemongrass, seasoned with lime juice and cilantro. The Yum Neau is a grilled fillet marinated in Thai spices and served with cucumbers, onions, and scallions, also an excellent low carbohydrate Thai food option. To keep the salad low-carb, make sure to remove the noodles.
Som Tam
The queen of Isaan cuisine and one of Thailand's most popular dishes, som tam is a fiery papaya salad that's prepared in a pestle and mortar alongside tomato, lemon juice, dried shrimp, fish sauce and, of course, a handful of fiery-hot peppers. One of Thailand's spiciest dishes, som tam, is a popular healthy option that's eaten all over the country, though it is best enjoyed in Isaan. Of course, it is possible to order it without the chilies – but where's the fun in that?
Low-Carb Thai Food: Seafood
Seafood Among low carbohydrate options featuring seafood lobster tail stir-fried and served with fresh garlic sauce and asparagus are excellent. Order a bowl of soup like Tom Yum Goong combining mushrooms, lime juice, lemongrass, and hot peppers. Shrimp Soup Shrimp soup known as Tom Yum will cause some mouth burning because of its heat, but it will keep your waistline perfect. With ingredients like shrimp, green leafy vegetables, lemongrass, and coconut milk, which are all low in carbs, its full serving will generate only 9 grams of carbs.
Tom Yum
One of Thailand's most famous dishes, tom yum is a distinctly orange-colored soup, usually containing prawns. As one may garner from its fiery color, it includes a base of Nam prik pao, lemongrass, galangal, kaffir leaves, and chili, all of which contribute to its spicy, fragrant and sour flavor profiles. While it's often served with rice, its thin consistency means it can be enjoyed equally as a soup or a curry, rendering the rice optional, and cutting the overall amount of carbs. Keep a glass of milk nearby, because it's going to be hot.
Low Carbohydrate Thai Food Tips
You can enjoy these low carbohydrate Thai food well when you eat authentic Thai cuisine available like Yummy Thai Irving! That's why we invite you to visit us and satisfy your cravings. Call us on 214-238-2449 for reservations. 
Read more like this:
Top 11 Vegetarian-Friendly Thai Dishes
Top Thai Soups To Give Your Tastebuds A Quick Healthy Twist
The Most Delicious Thai Seafood Dishes You Need to Try!
Common Thai Food Misconceptions