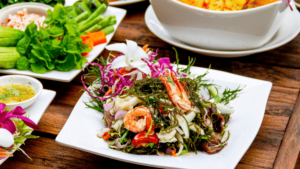 Thai food is not only tasty and flavorful, but most of all, healthy because of the fresh ingredients the locals use in preparing each dish. And it is the reason behind the craze and interest of foreigners to indulge in different Delicious Thai Food whenever they have a chance. 
Have you tried the various mouth-watering and Delicious Thai Food? You're missing half part of your life if you haven't tried even just a single bowl of Delicious Thai Food. 
Therefore, let's talk about the various healthy and Delicious Thai Foods so you will have an idea which to order when you dine in at a Thai restaurant. 
Stir-fried Water Mimosa (Pad Pak Gachet)
Are you a lover of green leafy vegetables? You're in for a treat with this Delicious Thai Food known as Pad Pak Gachet. The crunchy and chewy texture of the dish gives joy and satisfaction while enjoying a serving. Combining its flavorful sauces and spices like garlic, chilies, and oyster sauce, you'll definitely have an incredible meal with this tasty dish.
Thai Hot Pot (Jim Jum)
Hot pots are excellent options to have, especially during cold weather. It's so lovely to have a warm meal while chit-chatting with friends or loved ones. Jim Jum comprises pork or chicken, kaffir lime leaves, galangal, lemongrass, sweet basil, and vegetables. For vegetarians, the absence of meat wouldn't affect the flavorful taste of the dish. 
Tom Yum Soup
Tom Yum Soup is a type of hot and sour soup that originates from Central Thailand. Tom refers to  "the boiling process," while Yum  means "mixed." The soup is famous for its sour flavor and the good-smelling herbs and spices used in the broth. This Delicious Thai Food comprises galangal, kaffir lime leaves, lime juice, lemongrass, and to spice up the serving, an addition of fish sauce and crushed red chile peppers are necessary. 
Green Mango Salad (Yam Mamuang)
Yam Mamuang is similar to Som Tam. The only difference between this Delicious Thai Food is the main ingredients, which are mango and papaya. This dish is a healthy snack you can order because it is very nutritious and packed with high protein. Therefore you're shooting two birds in one stone while savoring its tasty flavor. 
If you want to add a pair for this Delicious Thai Food, you can order rice and grilled chicken with flavorful chili sauce to have a little kick in your tastebuds. 
Stir-fried Vegetables (Pad Pak Ruam Mit)
Here's another Delicious Thai Food you can enjoy, primarily if you are a vegetarian. However, if you're not a fan of eating veggies, consider this Thai dish, and you'll surely change your mind and start loving it. 
Thais have this term "ahan dtam song," which means something along the lines of "made to order," meaning putting in your order before they cook it. 
There are no specific ingredients for this Delicious Thai Food because they can prepare the available vegetables. And if you want to spice up your order, you can request the server "nam man nidnoy," which means "just a little oil."
Green Papaya Salad (Som Tam) 
Another Delicious Thai Food is the Green Papaya Salad. As mentioned earlier, it is similar to Green Mango Salad. The shredded green papaya is mixed with tomatoes, dried shrimps, garlic, string beans, peanuts, carrots, and eggplant. And to make a serving of this dish fiery, you can add chilies to let your palate feast while devouring your food. 
Seafood Salad (Yum Talay) 
Entice your appetite with a serving of this Delicious Thai Food called Yum Talay. Comprising of tomatoes, onions, and seafood, this salad will make your mouth dance in joy. The various seafood in your salad are scallops, mussels, shrimps, squids, or crab meat. 
Chicken and Rice (Khao Man Gai)
Chicken and rice lovers, here's a perfect Delicious Thai Food for you. Khao Man Gai is not only yummy and satisfying, but it's also affordable, so you don't have to worry about your bill while digging into your meal. Moreover, the dish is rich in protein and carbohydrates, and to make the serving yummier, don't forget to ask for the spicy dipping sauce.
When Thais meet, they usually ask, 'gin khao reu yang?' meaning, 'have you eaten yet?', instead of greeting "hello" because they want to know if you already have a meal. Nonetheless, don't be surprised when you meet a Thai and ask you this question. 
Do you feel hungry after reading these mouth-watering and  Delicious Thai Foods? Go ahead and invite your family members or BFFs and dash in a Thai restaurant near your place, and order anything that you want to try from their menu. 
Thanks a lot for reading this article about 8 Healthy and Delicious Thai Foods. Go on and dig into the various Thai Dishes!
Read more like this:
10 Delicious Thai Grilling Dishes You Should Try
4 Amazing Things You Must Know About Thai Cuisine
Essential Guide to Thai Food Culture: 2021
Thai Soups To Give Your Tastebuds A Quick Healthy Twist
The Most Delicious Thai Seafood Dishes You Need to Try!
Common Thai Food Misconceptions